Μετα το καταιγισμό του #socialmediafrenzy, με τους συμμετέχοντες μουσικούς και αλλους τυχαίους να τραβούν φωτογραφίες με την αφίσα, ενώ και εγώ ο ίδιος έκανα τα γράμματα σε στυλ YMCA, είχε έρθει η ώρα για τον πραγματικό πρωταγωνιστή να πάρει τη σκυτάλη.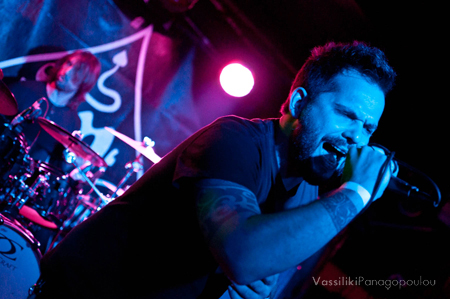 Και εγένετο ήχος με τους Ghost Season να αμολούν ελεύθερο το αμερικανικο alternative metal με το κοινό ολοένα να αυξάνεται. Τα κολλημένα πλαστικά καπάκια στην πεταλιέρα του κιθαρίστα έκλεψε πολλά βλέμματα και η διασκευή του "Hold me, kiss me, thrill me" των U2, χειροκροτήματα.
Η συνέχεια αγρίεψε με το prog death metal των Once Them Edens, οι οποίοι εμφανίστηκαν γραβατωμένοι και απέδωσαν καλά τις μαθηματικές τους συνθέσεις.
Ο κύριος Χατζημιχάλης aka Made By Grey με full μπάντα ηρέμησε τα πράγματα, κάνοντας τα ταυτόχρονα αφηρημένα. Η συμβολή του βιολίστα Χαράλαμπου Παρίτση (Chaostar) ήταν καταλυτική και οδηγούσε το post rock σε όμορφα τοπία με την τρομπέτα να τα τελειοποιεί
Το πρόγραμμα πήγε σε πιο trip hop/alternative μονοπάτια με τους Blame The Trees να δείχνουν ακόμη μεγαλύτερη πρόοδο.  Μια πιο Garbage έκδοση των Portishead με την εξαιρετική Ναταλία στα φωνητικά να ευχαριστεί και το Rockway.gr και η διάθεση των παρευρισκομένων φτάνει στα ουράνια.
Και έκπληξη! Universe217 secret guest να τα σπάνε όλα και να κάνουν τις τρίχες στο σβέρκο μου να σηκώνονται.
Το τέλος συναρπαστικό με τους Mother of Millions να έχουν εξαιρετικό ήχο και να αποδίδουν πανέμορφα τα κομμάτια του ντεμπούτου τους "Human". Ο Γιώργος Προκοπίου δε, απέδειξε ότι είναι frontman παγκοσμίου ποιότητας.
Για το Rockway,
Δημήτρης "θατοτερματίσωκαιτουχρόνουκότση" Μαρσέλος
photos: Βασιλική Παναγοπούλου
153